Simriz® 501 is a compound that was developed by Freudenberg as the next-generation material to the well-known Simriz® Z7257. Simriz® 501 is specially designed for the aerospace industry by far exceeding the requirements of AMS7257 thanks to its exceptional temperature resistance of up to 617°F (325°C) and a broad range of harsh chemical environments including:
Strong inorganic and organic acids
Steam and water
MIL-PRF-23699 HTS turbine lubricants after these lubricants start to degrade
How do you know Simriz® 501 is a quality material?
Freudenberg has performed extensive testing including flight testing in high-temperature aerospace applications that verify that it not only surpasses AMS7257 requirements but also outperforms competitive materials in O-ring compressive stress in customer testing.
Typical applications
Bleed Air Management Systems
Gas Turbine Lubrication Systems
High-Temperature Propulsion Units
Control Devices utilizing strong oxidizers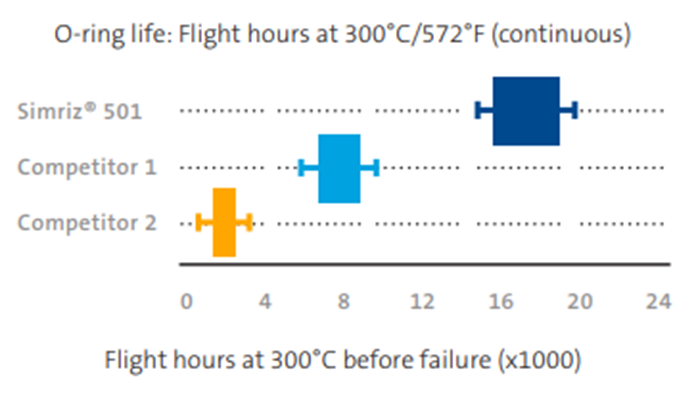 Features and Benefits of Simriz® 501
Demonstrated performance advantages compared to competitive products, including extensive flight testing
Produced in the first NADCAP-certified production
Demonstrated performance in a variety of Aerospace applications
Sealing Device's Inc and Freudenberg NOK's partnership creates tremendous value
Our partnership with Freudenberg-NOK allows our customers to receive tremendous value from both company's expansive resources and sealing knowledge. Freudenberg is the only globally integrated O-ring manufacturer down to monomers allowing Sealing Devices customers to receive cost-effective FFKM O-rings that provide demonstrated superior performance.
As a Freudenberg-NOK preferred partner, we have access to provide you with not only our outstanding products and services but Freudenberg's vast portfolio of products including Simriz® plus their full-service offerings.
We know that finding the right sealing solution can be difficult that's why at Sealing Devices Inc we offer industry experts to support all of your needs. Contact us today to find out how Simriz® 501 could be the perfect material for your aerospace application.
Disclaimer: The information contained herein is believed to be reliable, but no representation, guarantees, or warranties of any kind are made to its accuracy or suitability for any purpose. The information presented herein is based on laboratory testing and does not necessarily indicate end-product performance. Full-scale testing and end-product performance are the responsibility of the user.