What is Die-Less Cutting?
In our previous blog, we discussed the topic of die-cutting. This process uses a predesigned-die / tool to cut sheet material into a specific shape, quite literally a cookie-cutter approach. Sealing Devices offers several different manufacturing methods so we can meet our customers' most demanding requirements. With the increased demand for tighter tolerances, larger gaskets, and more exotic materials, Sealing Devices has turned to die-less cutting methods to keep up with demand.
Die-less cutting can be described as a way to manufacture custom parts without the use of a cutting tool or die. We can create the same shapes as die cutting, as well as parts with much more complex geometry. It is a great option for parts with low annual volume, parts in the prototyping phase, parts that are too large for traditional die cutting, and parts made from materials that are too hard or thick for traditional tools.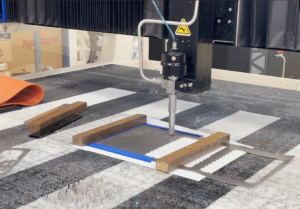 How are gaskets made without tools?
At Sealing Devices, we use 3 different methods for die-less cutting. Flash / Knife cutting, Waterjet cutting, and Laser cutting. Each method uses the same type of process but uses a different source for cutting into materials.
DXF or other 2D CAD files are uploaded to one of the machines, translated into a toolpath, and ran as a machine program. Operators place material onto the bed of the machine, and the toolpath cuts the part based on the program generated. Operators can also tweak these programs to hit tighter tolerances, increase throughput, and decrease cut time.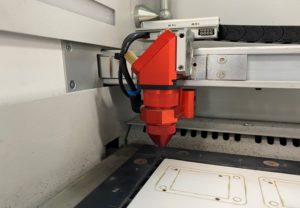 Advantages of Die-less cutting
There are many advantages of using a die-less cutting method for your next project. We can create gaskets up to 10 feet x 5 feet without any seams or bonds. Additionally, die-less cutting is great when you only need a few pieces. Since no tool is required, customers can save money by not having to invest in a custom die. This advantage also makes die-less cutting a great solution for parts that are in the prototyping phase, or parts that may be revised multiple times.
Die-less cutting is also great for parts that require tighter tolerances, have complex geometry, or narrow gasket widths. Because our die-less cutting equipment is computer numerically controlled, you can expect a more repeatable process than traditional die cutting. Along with our state-of-the-art quality system, customers can expect us to provide them with parts that meet or exceed their requirements every time.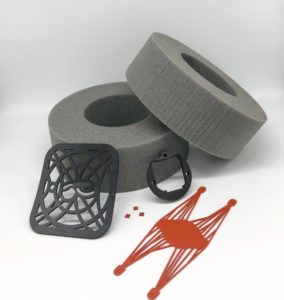 Where are Die-Less Cut Seals and Gaskets Used?
Industrial controls, valves, bearings, pumps
Automotive
Commercial
Food
Medical
Sensors
Transportation
Die-less cut gaskets can be found in the same place as traditional die-cut gaskets. Whenever the die-cutting process is not possible, we turn to die-less cutting methods for our customers. Die-less cutting is typically used when a gasket is too large, too intricate, or the material just cannot be cut with a traditional tool. All industries we serve can benefit from our die-less cutting capabilities – especially if there is a need for rapid prototyping or quick turn parts.
Sealing Devices has continually invested in many cutting methods to offer our customers the best Seals and Gaskets. Die-cutting, numerically controlled knife cutting, waterjet cutting, and laser cutting are a few of the methods we utilize to make gaskets and seals for today's latest customer demands. We are always interested in new requirements and challenges that we can help solve. By sharing your industry/application requirements with our Applications Engineering group, we can find the best solution for you. Click here to contact us.