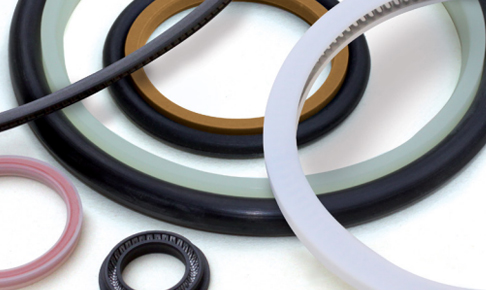 Seals and Sealing Products
Seals, sealants & device sealing experts
Sealing Devices offers many types of seals from O-rings that seal water, aircraft fuels and many media on pumps, electronic devices, compressors, transportation vehicles, food processing equipment and medical devices, to complex EMI shielding gaskets that block electromagnetic interference in electronic enclosures and devices.
Seals prevent or reduce fluid passage between two surfaces. Imperfect mating parts require some type of sealing device to be inserted between them to seal against loss of liquid, gas, solid fluids or particles.
Sealing Devices also provides molded rubber seals, extrusions, lathe-cuts, gaskets, packing, Teflon seals, mechanical seals, graphite, cloth, metal seals, O-rings and metal rings, and a complete line of oil seals.
Elastomer Seals
O-Rings, quad seals, v-seals, quad rings and spliced extruded profiles are all types of elastomer seals. 
Spring Energized Seals
Spring-energized seals for fluid power equipment sealing applications provide reliability in hydraulic and pneumatic systems.
Hydraulic Seals
Hydraulic seals are designed to retain hydraulic fluids, exclude solid or liquid contaminants and maintain hydraulic pressure. 
Radial Shaft Seals
Radial shaft seals are used to seal rotating axles and shafts against media from inside or against contaminants from outside.
Press in Place Seals
Press-in-place seal technology provide seal retention in the straight-wall of dove-tail grooves, and can offer good replacements for O-rings that won't seal properly.
Fabric Reinforced
Fabric reinforced diaphragms are used for tensile strength, pliability, & fire resistance.