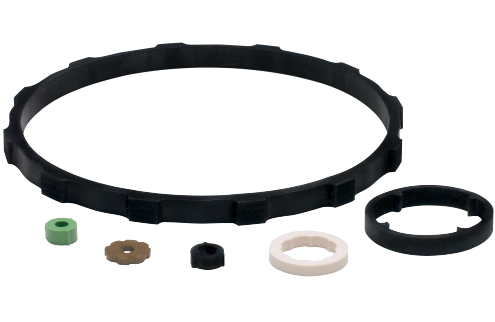 Press-in-Place Seals 
Press-in-place seals form efficient seals
Press-in-place seal technology provide seal retention in the straight-wall of dove-tail grooves, and can offer good replacements for O-rings that won't seal properly.
Press-in-place and PIP seal design retention ribs help installation. Design retention and stabilizer ribs line the seal for ease of installation. Press-in-place and PIP seals offer small contact point design requiring less flange, and allowing for maximum sealing under minimal pressure.
The stability and retention ribs also prevent the seal from twisting and offering exceptional sealing properties with non-ideal mating surfaces.
Features & Benefits:
Custom molded to groove path
Self-Retaining
Quick and easy installation
Narrow straight walled grove
Optimal material usage
Size and weight reduction in housing
Seals around tight radii and bolt holes
Ideal for composite housing
Custom designs from 0.050" to 15" in diameter
Available in a wide selection of sealing grade materials