Customer Problem:
A manufacturer of precision aircraft instrumentation was designing a new avionics device. During hardware design, it was determined EMI shielding gaskets were needed to meet Aviation Electronics EMC requirements.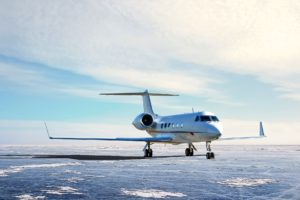 Customer Requirements: 
Custom EMI gaskets that would fit into the housing's existing groove design.
Seals with high levels of shielding effectiveness to meet the stringent EMC requirements for avionics equipment.
A material with excellent long-term corrosion resistance
Ability to work in a wide temperature range
Good chemical resistance to provide high reliability in an aerospace environment.
A readily available solution to meet the fast-approaching prototype delivery need
Solution: 
To fit in the current hardware design and meet the stringent application parameters, spliced and vulcanized (S&V) O-ring gaskets were designed using Parker Chomerics CHO-SEAL 6503.  Using S&V gaskets from a standard profile allowed a number of different-sized parts to be delivered in a short time frame. Common-sized cross-sections are readily stocked, and S&V O-rings do not require extensive tooling to produce.
Conclusion: 
Using O-ring seals made from CHO-SEAL 6503 allowed for delivery of high-performance custom-sized EMI gaskets in a short period of time.  CHO-SEAL 6503's unique combination of Nickel/Aluminum (Ni/Al) filler and Fluorsilicone elastomer provides high levels of shielding effectiveness after long-term aging in harsh environments commonly found in Military and Aerospace applications.  By utilizing a nickel/aluminum filler, CHO-SEAL 6503 offers high shielding effectiveness and outstanding corrosion resistance. Its Fluorsilicone binder provides a wide range of temperature performance (-55 to 125 deg C), good weather resistance, and compatibility with common aviation fluids like fuels and hydraulic fluids. These innovative properties make CHO-SEAL 6503 ideal for aerospace applications.
Offering an extensive inventory of leading sealing materials and flexible manufacturing capabilities supports multiple customer requests. Along with the long-term experience of a variety of OEM customers in multiple markets, our skilled Applications Engineering Department and Sealing Devices Team can provide innovative, timely, and cost-effective seal and gasket solutions for a wide variety of applications.