In applications that require EMI or RFI shielding, every gap must be considered in order to have the greatest chance of passing an FCC or other radiated emissions test. These gaps can include spaces between: covers, screens / windows, fasteners, sheet metal bend seams, or cable connections from external equipment, sensors, or power supplies. Perhaps the most over-looked cause of a gap is from connectors that are bought aftermarket. Sealing Devices is well equipped to produce gaskets which eliminate gaps and protect against both signal and environmental leakage in both standard and non-standard connectors.
In most military applications, electronic connectors will be standard sizes under the MIL-DTL-38999 specification. It should be noted that many non-military producers will also use these standard connectors, since they are tested in the harsh environments experienced in oil & gas, automotive, and other markets. These connectors will be tested to environmental and EMI tests independently of their end use, and it is up to the end user to design how the connector will be utilized in the final product.
MIL-DTL-38999 connector part numbers contain 6 sections:

In the gasket world, the most important sections are:
Shell Type
Material and Finish
Shell Size
Sealing Devices stocks a number of standard gaskets to meet MIL-DTL-38999, and can quickly cut parts from a variety of materials to meet demand for unstocked items. Parts can be fabricated using traditional die cutting, as well as water-jet or CNC knife cutting. Production methods are determined by quantity, part complexity, and material. Sealing Devices can also manufacture custom connector gaskets outside of the MIL standards, and our team of Application Engineers are available to assist with gasket design for custom connectors.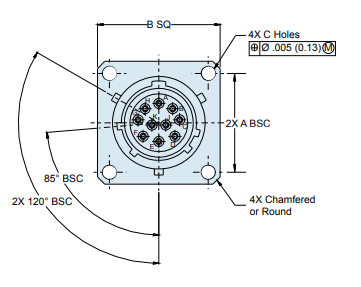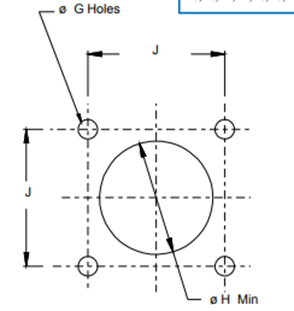 The most common connectors that require aftermarket gaskets are wall mount and box mount hermetic receptacles. When these connectors are selected, a gasket must be considered in order to protect the sensitive components inside the enclosure from the environment. In most applications, this gasket must also provide EMI protection.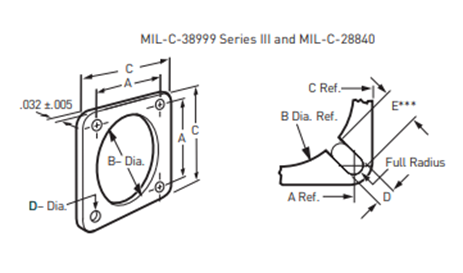 For all applications that require EMI shielding, it is recommended that these connector gaskets be made from silicone or fluorosilicone impregnated with electrically conductive metal fillers. Sealing Devices stocks a number of these sheet materials that are made by Parker Chomerics. Both silicone and fluorosilicone are great for temperature resistance, with fluorosilicone being a preferred option if the application will be exposed to oil or other more aggressive media.
Metal filler options include:
Nickel – Aluminum
Silver – Aluminum (MIL-DTL-83528 TYPE B, D)
Silver – Copper (MIL-DTL-83528 TYPE A, C)
Nickel – Graphite
Silver – Glass (MIL-DTL-83528 TYPE M)
Filler selection is dependent on housing material, required shielding effectiveness, what environment the unit will be in, and available budget.
Connectors come in all different shapes and sizes. Whether you have a standard off-the-shelf part number or are designing a new type of connector, Sealing Devices is equipped to supply or help design gaskets for these complex products. Our Application Engineers are ready to assist on your next complex sealing challenge.